Our Team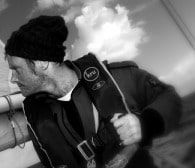 Rónán Ó Siochrú (Principal)
Rónán Ó Siochrú is the principal at Irish Offshore Sailing. He started his sailing at the age of twelve in Kinsale, Co. Cork. With his yachtmaster offshore certificate at the age of 18 he spent two summers instructing and racing yachts in the U.S. In 2004, at the age of 21 he attempted to sail from Ireland to Iceland singlehanded in a 21 foot yacht to raise money for the Irish Cancer Society, and prepare himself for the mini transat singlehanded transatlantic yacht race. The attempt, while unsuccessful provided a wealth of offshore singlehanded sailing experience and heavy weather sailing.
Rónán has accumulated a wealth of knowledge over the past 16 years. He has been an RYA Yachtmaster Instructor for over 7 years and is also an RYA Yachtmaster Examiner, SRC Assesor, ISAF Offshore Safety Instructor and RYA First Aid Instructor.  He has skippered yachts in numerous offshore yacht races and has trained professional skippers who have gone on to work in the sailing industry all over the world. He holds a masters degree in Oceanography and has an infectious enthusiasm for sailing and for the sea. The son of a native Irish speaker and having spent two years living in France, Rónán has near perfect levels of French and Irish. Armed with limitless patience and an energetic approach to learning, he will unlock your true sailing potential but above all will ensure your passage with Irish Offshore Sailing is fun, safe and exciting.

Peter Beamish (Yachtmaster Instructor)
Peter Beamish from Dublin has been working with Irish Offshore Sailing since its establishment in March 2011. Peter has over 40 years of sailing experience and has owned and raced numerous yachts  very competitively at club level throughout his sailing  career both here in Ireland and in the UK.
Peter has a wealth of knowledge from his extensive racing career and a very relaxed easy going style to his instruction which puts the most wary beginners completely at ease. Peter can be described only as a true gentleman!
Charles Alix (Cruising Instructor)
Charles Alix is a Cruising Instructor hailing from Rennes in Brittany in North West France. Charles progressed at his sailing with Glennans in Baltimore before coming to Irish Offshore Sailing as a student on one of our 14 Week Professional Yachtmaster Courses some years back. He was an outstanding student, with a natural sailing ability and cool, calm personality, which make him such a competent skipper. His unassuming ever helpful relaxed manner makes him an instantly liked personality on any yacht. Charles knows our school inside out and sees things from both a students and instructors perspective, making him one of the best on our team for straight forward honest advice on any course that we provide. Charles continues to develop his instructing skills at an alarming rate and is an incredible asset to the Irish Offshore Sailing team.
Tim Wood (RYA  Yachtmaster Instructor)
Tim from England, is a highly experienced instructor. He has many years of experience teaching on a variety of yachts and has in particular a lot of experience with milebuilding passages and longer cruises. He has a very relaxed style allowing students to skipper under his ever careful eye but to gain confidence as they do so. He has no shortage of yarns to tell, which help galvanise the learning principles in his wealth of experience as a professional yachtsman.
Ashley Skett (Cruising Instructor)
Ashley Skett  is an RYA Cruising Instructor  from Stratford-upon-Avon in the UK  is a very experienced Cruising Instructor , with a huge number of miles built up in the super yacht industry.  His work on large yachts as a professional skipper has given him a clinical attention to technical detail, he is gifted in the areas of yacht maintenance and repair. Ash has a very relaxed no stress style, but coupled with such a keen attention to detail and incredible patience he is an excellent instructor and we hope will stay with us into the future.