Practical Race Training Weekends
Race Training 1 Fri 27th – Sun 29th May (Fri 1900 – Sun 1600)
Race Training 2 Fri 3rd June – Sun 5th June
Race Training 1 Fri 29th July – Sun 31st July
Race Training 2 Fri 5th – Sun 7th August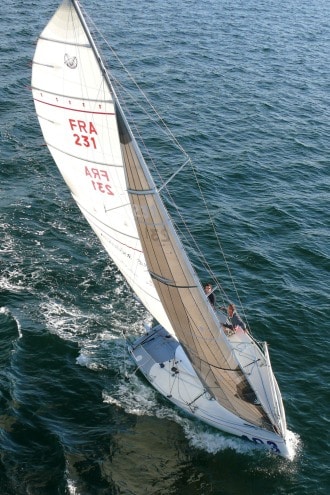 This is an ideal introduction to racing. So often people jump onboard a yacht that is racing and find it daunting, there is a lot of shouting and you don't understand whats going on. Race training weekends at Irish Offshore Sailing is about dispelling this notion. Your racing instructor and professional first mate work together to train you intensively to understand the tactics involved in racing a yacht and to make you a proficient crew member at all jobs onboard.
Race Training 1
Intoduction to racing. The course. Starting sequence and procedure. The racing rules. The different crew positions onboard. Bowman, Mastman, Genoa Trimmers, Halyards, Tweakers, Mainsail Trimmer, Helmsman and Tactician. Upwind sailing, fast tacking. Headsail Peels. Downwind sailing. Poling Out the headsail. Primary Tuning: Sheet Position, Car Positions, Kicker Tension
Click here for a typical Weekend Race Training Itinerary
Race Training 2
The Spinnaker. The hoist. The Gybe. The Drop. Secondary Tuning: Sailing for different airs. Lightwind, Medium Heavy Wind. The Use of Cunningham, Outhaul tension, kicker tension, halyard tension and backstay tension. Optimum crew weight positioning. Upwind Tactics: Laylines, Lifts and Knocks.
These are intensive courses, prior sailing knowledge while not essential to perform as an efficient crew member would certainly be an advantage to a greater understanding of the contents of the course. For the complete beginner wishing to learn how to race, it is very much recommended to familiarise yourself with the principle of sailing from a book before the course. This course is very much geared towards improving your understanding of how to race, there often isn't enough time to dedicate to teach you how to sail. Beginner sailors wishing to primarily just learn how to sail would benefit more from the Start Yachting or Competent Crew courses on our cruising scheme.
Race Training Weekends Prices
Whats included:
Accomodation onboard on the Friday night if required (some clients choose to go home if living locally). Breakfasts and lunches on Saturday and Sunday.
Accomodation onboard on Saturday night if required. Waterproofs, Marina Fees and Fuel. All racing tuition.
Whats not included:
Dinner on the Friday or Saturday evening. Waterproof footwear.
Race Training 1 Sample Itinerary
FRIDAY
1900 Load the yacht with the food for the weekend and get familiarise yourself everything onboard
1930 Safety brief given by your instructor, and discuss possible places to visit for the weekend
2000 Have a bite to eat and a relaxed beer ashore and get to know your fellow crewmates
SATURDAY
0800 Showers at marina facilities, breakfast, clean up and get weather forecast
0900 Introduction to deck gear, ropes and rigging and various parts of the yacht
0940 The different positions onboard and what they entail
1030 Upwind Race Trim
1115 Coffee and discuss car positioning and sheeting positions for race trim
1145 The bearaway and downwind sailing
1300 Lunch at a mooring buoy or anchorage in the Dalkey Sound.
1400 Headsail Peels and Headsail Furling
1500 Sausage Course, Practicing the different positions
1630 Head back towards Dun Laoghaire
1700 Quick Tidy Up and Debrief the Day
SUNDAY
0800 Showers at marina facilities, breakfast, clean up and get weather forecast
0900 Race Tactics – Laylines, Windshifts , The Rules of the Road
1000 Triangular Course – Practicing different positions to yesterday
1100 Coffee Break and discuss, the importance of backstay and kicker tension
1200 Poling out the headsail
1300 Lunch at anchor
1400 Mainsail Reefing
1530 Intensive Gybing downwind, rigging a preventer
1600 Make our way back towards Dun Laoghaire
1630 Quick Tidy Up and Debrief for the day