The 2018 Round Ireland Yacht Race
   
Sat 30th June – Fri 6th July 2018
712 Miles of Offshore Yacht Racing
Take your place onboard our 37 foot cruiser racer " Desert Star", Fastest Sailing School Yacht in the 2015 Fastnet Race (66th overall of 340 yacht fleet), 94th overall in the 2017 Fastnet Race of 380 yachts,  6th in class in 2016 Round Ireland Yacht Race, 3rd in class in the 2014 Round Ireland Yacht Race, 4th in class in the 2012 Round Ireland Yacht Race…….. learn to Offshore Yacht Race to Win!
Come and spend three weekends training to race an offshore yacht, then do a 750 mile offshore yacht race through the most scenic cruising grounds in the world! No previous experience required! The Round Ireland Yacht  Race is the biggest offshore yacht race on the Irish Sailing Calendar and attracts an international following. It is a tricky tactical race, where tides and slack wind can make or break you. You will get the opportunity to sail through what is arguably the most scenic coastline in the world. You will sail past the Tuskar Rock, Fastnet rock, the Bull lighthouse, the Skelligs Monastic Outpost, the Aran Islands, wind torn Tory Island and then into the North Channel only a stones through from Scotland. We then make the final dash down the Irish Sea, past Dublin Bay and back into Wicklow!
This is a huge achievement to spend  6  nights offshore racing through the night with the spinnaker up and demands a lot of work with little sleep. Our experienced Race Skipper assisted by a professional first mate will guide you through every aspect of offshore yacht racing. With 6 crew members plus 2 professionals onboard, you will get unparalleled training onboard this vessel. That's a 3:1 student – instructor ratio! Whether you are a novice sailor or an avid club racer, you are guaranteed to learn an invaluable amount on a trip such as this. Our skippers are instructors and are laid back guys so enjoying yourself will be a major priority, having said that, the three weekends of training are designed not just to make it safe, but to enter this race as a competitive race crew with a real shot at winning! Otherwise we'd just be cruising!
A great reception and a great night out are guaranteed on arrival back in Wicklow after the race! No prior experience is necessary to participate on this race, we have had crews from their teens to their mid – seventies, once you are reasonably fit to participate. All we ask is that you come ready for the challenge, able for tough work, little sleep and that you are a positive enthusiastic team player with a sense of humour! This is offshore yacht racing at its best! So often people jump onboard a yacht that is racing and find it daunting, there is a lot of shouting and you don't understand whats going on. Race training weekends at Irish Offshore Sailing is about dispelling this notion. Your racing instructor and professional first mate work together to train you intensively to understand the tactics involved in racing a yacht and to make you a proficient crew member at all jobs onboard.
2018  Round Ireland Campaign Prices
5 Weekends Training (11 days)
Over 1,200 Miles of Offshore Training and Racing Logged
19 Days of 3:1 Instruction and Racing
Personally Embroidered Team Jacket and use of Offshore Waterproof Clothing
Special Offer:
 Total Cost: €3,950               (€3,500 if booked and paid before 31st December 2017)
Approximately 6 holiday days are required from work.     Fri 25th May, 2nd – 6th July
Training Weekends:
5-6th May 2018     (Race Training 1)
12-13th  May 2018 (Race Training 2)
14th – 15th  April  2018   (ISAF Offshore Safety Course) Sea Survival + Pool Session
25th – 27th May  2018 (300 mile qualifying passage + ISORA Yacht Race)
23rd – 24th June 2018  (Race Training  3)
The Round Ireland Yacht Race:
Saturday 30th June 2018 1400- Fri 6th July 2018 (Approx)
We bring the yacht to Wicklow on Fri 29th June, you are welcome to bring the yacht down with us, Soak atmosphere and enjoy the craic!
Training: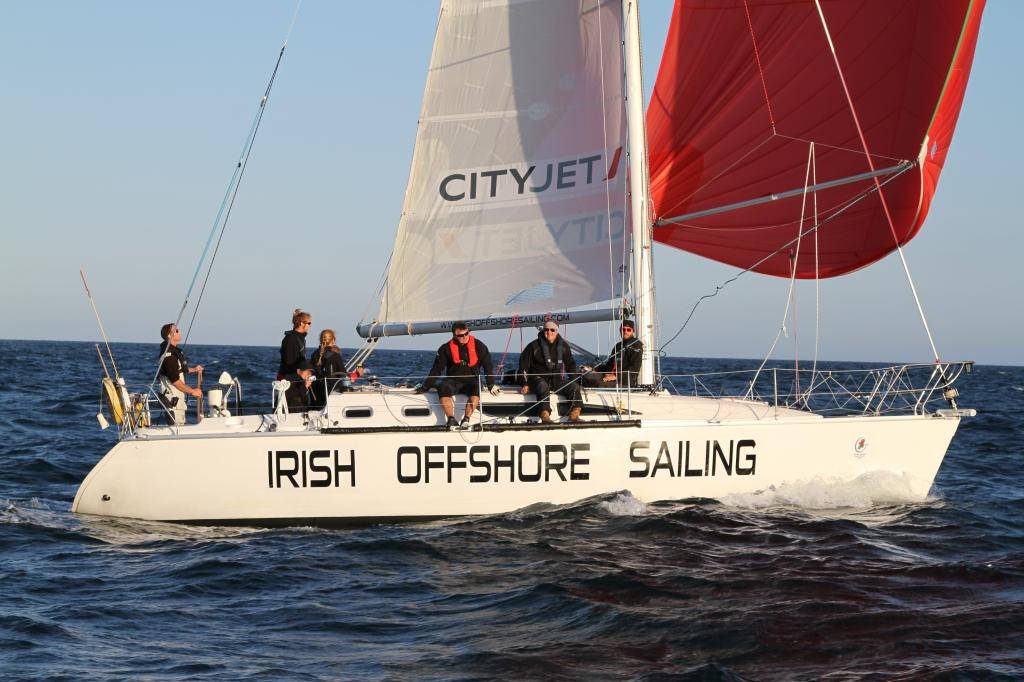 The first weekend (race training 1)consists of learning about the intensity and co ordination of each simple job, the weekend focuses on efficient tacking, roll tacking, mainsail shape and trim, reefing,  headsail peels, car positioning and positioning of crew weight. It focuses on upwind racing.
The second weekend, will be the ISAF Offshore Safety Course, this is a 2 day course where you will learn about yacht safety equipment, how to rescue a crew member from the water and how to surviv should you have to abandon the vessel. It is a compulsory requirement for race entry by the organising authority to participate in this course.
The third weekend (race training 2), weather permitting will be a short offshore race on the saturday,  it will be a tiring 8 hours of racing, followed by our usual day of race training on the sunday. It is not liveaboard on the sat night. The race is subject to change, if so, a normal training weekend will occur from Dun Laoghaire.
The 4th weekend will be our first real offshore yacht race, it will be 100 mile race from the Isle of Man to Dun Laoghaire,  we will have to cruise the yacht to the Isle of Man before the race. This means that you will be at sea from the moment you set foot on the yacht at 3pm on Thursday evening until Sunday afternoon when we arrive into Dun Laoghaire. You will be worked very hard over the weekend, this is a great tester for the Round Ireland and we will cover up to 180 miles over the weekend.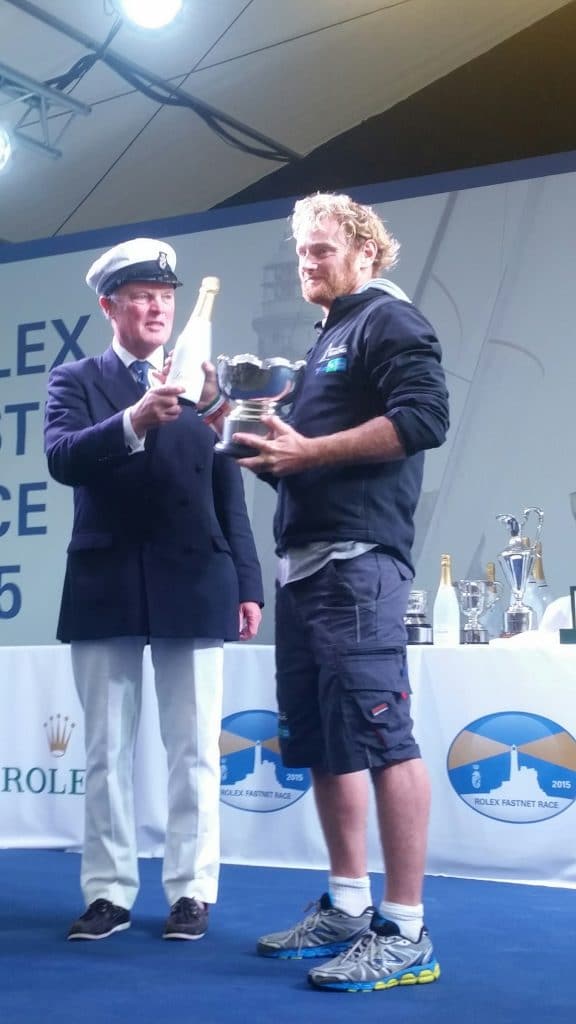 The 5th and final weekend (race training 3) will focus much more on ironing out problems with the spinnaker. The hoist, drop, gybe, tweakers, crew positioning, spinnaker trim are the main areas to be covered here. As well as generally improving straight line speed.
Whats included: Race tuition, breakfasts and lunch onboard during the training weekends, waterproof clothing, accommodation onboard if required, all meals included during the race, accommodation onboard on the night we arrive back in Wicklow if required.
Whats not included: Evening meals during the race training, (people generally go home if living locally or we out in a restaurant). Transport costs to and from Wicklow before and after the race,however there will be the opportunity to deliver the yacht from Dun Laoghaire to Wicklow and back again after the race for the extra keen beans, at no cost!! Sea boots are not provided. Race crew must bring their own sleeping bags. This is a very intensive training course, students are strongly recommended to book into a b and b or hotel on the sat night of the training weekends and on the eve before the race in Wicklow.
Payment and Cancellations:   A  deposit of €2,000 is required to hold your place on the team, this 50% deposit is fully refundable up until the 1st February 2018, this is 3 months prior to the 1st training weekend. The outstanding amount of €1,950 is required on or before the 1st February to continue holding your place. After the 1st of February there is no refund unless Irish Offshore Sailing manages to fill your place on the team with another fully paying team member. Once the training has begun, this is no longer possible.
Further Information:   We appreciate that it can be difficult to make a decision about an intensive campaign from a website. We would be delighted to discuss the campaign further and address any queries or concerns you may have, either in person over a cup of coffee in Dun Laoghaire or over the phone.  In the meantime check out a few links to some raw unedited footage that will give you an insight as to what to expect during the race
https://www.youtube.com/watch?v=a8zc9dFjXvo
https://www.youtube.com/watch?v=kowBdtdmmzI
https://www.youtube.com/watch?v=jNok4pQge0s
https://www.youtube.com/watch?v=zqU8-scqdX8
[soliloquy slug="inside-page-videos"]