Our Yacht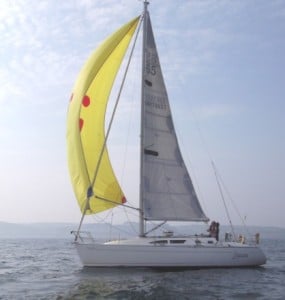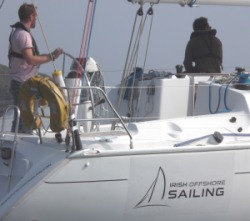 Desert Star, is a Jeanneau Sunfast 37, a 37-foot ocean going vessel built in France in 2002. She is a luxurious vessel with three double cabins and a main saloon. At full capacity can sleep nine people, though she is never operated with more than a 5:1 student to instructor ratio while on courses. Her deep fin keel of 2.1 metres gives her reassuring sturdiness in a strong blow. Her tall mast and huge mainsail makes her a very performant racing yacht and has an IRC handicap of .950, speed lovers will enjoy getting the most out of this fast machine; yet at the same time she is a very forgiving boat, she lets you know if she's not being sailed correctly, but will not punish you for it! She has a large comfortable cockpit with plenty of space for the crew to work halyards and winches without trampling on each other. She has a large wheel so that you can really feel the yacht respond to windshifts, this makes her a very pleasurable boat to sail for both the novice and expert alike. She has a large accessible chart table for the instructor to assist in navigation exercises; in fact the Sunfast 37 was designed with the consultancy of instructors specifically as a training school yacht, with a high racing performance. Updated Content.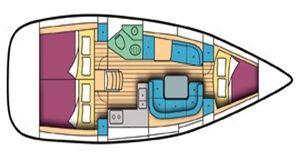 Since purchasing the yacht in early 2011, €15,000 of equipment has been installed on the vessel. A powerful diesel heater, keeps the yacht toasty warm even on the coldest days. State of the art Raymarine autopilot and the new C90 chartplotter have been installed on the yacht along with an AIS (automatic identification system) transceiver. The usual impeccable safety equipment required by an ocean going commercially operated vessel are all installed including a Solas B liferaft serviced annually along with an emergency position indicating radio beacon (EPIRB), a water activated emergency device which sends a signals to authorities and pin points our location in the event of an emergency.
Desert Star is one of the most high tech examples of a commercially operated offshore sailing vessel in the country, and is quite simply a pleasure to sail!