Corporate Yacht Racing Club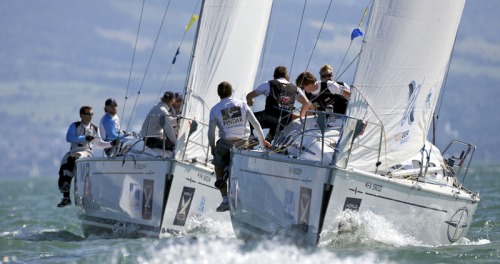 Whats involved:
Make a team of up to 7 people, train on our two identical 37 foot offshore race yachts with our highly qualified instructors. Training sessions will be once or twice per week for 4 weeks and then participate in an incredible 2 day regatta in Dun Laoghaire, food and prizes included. No previous sailing experience is required!
Network with other companies on the Sunday, as we mix up the teams for some fun racing after the main event.
Group Size: Up to 4 -7 people (to make a team)
Dates:
Week 1: 5-9th May
Week 2: 12–16th May
Week 3: 19-23rd May
Week 4: 26-30th May
Train twice per week (Mon & Wed) or (Tues & Thurs) (1800 – 2100)
Train once per week (Fri Only) (1800 – 2100)
Regatta: 31st May – 1st June
Alternate Regatta Weekend: May 14th – 15th ( If it is too windy to hold the regatta on 31st May)
Cost:
€735 per person (based on a team of 7); 8 Three hour training sessions, 2 day Regatta
€495 per person (based on a team of 7); 4 Three hour Training sessions, 2 day Regatta
Most companies have contributed to the cost through company socials and other such funding. You should enquire with your own company if they are willing to contribute, thus decreasing the per person cost.
More Detail:
This new and exciting venture from Irish Offshore Sailing aims to bring Dublin Companies together, to train during the week for 4 weeks, and then participate in a 2 day sailing regatta held over a weekend. It is an incredible networking opportunity. We will be using our luxurious 54 foot Ocean going yacht as the start boat, where you have a birdeye view of all the racing, until your own team is called to race.
During the weeks preceding the regatta, you will train onboard one of our two Sunfast 37 yachts. The two yachts will leave together each evening and pace together. You will get the chance to learn and improve all aspects of your yacht sailing. Whether you are a complete beginner or a seasoned club racer, under the watchful eye of our yachtmaster instructors you will iron out mistakes and develop into a responsive dynamic club racer.
There are 6 jobs on a yacht, sailing without a spinnaker. One person usually takes a break on each race, but is still responsible for moving his/her bodyweight from side to side on the vessel to maintain best speed. The main jobs are as follows:
Helmsman: Steers the yacht, tries to keep the yacht going straight and fast all the time. He/She is always aware that every movement of the wheel slows the yacht down. Concentrates on wind awareness and needs to be a good communicator, with a good nerve.
Headsail Trimmers: These two people operate the winches which control the front sail, the largest sail on the yacht. This is a physical job, and requires good co-ordination and timing when to release and take on the sheets. Good communication between each headsail trimmer is also essential.
Mainsheet Trimmer: This person is the accelerator onboard the yacht. He/She will be controlling two lines, the coarse trim and the fine trim. As knowledge increases, he will be able to judge when to power up and power down the vessel depending on gusts of wind, and directional change made by the helmsman and overall conditions on the day. At the beginning it is essential, that his/her is acutely tuned to the voice of the instructor.
Bowman: This person is responsible for all things happening at the front end of the yacht. Sometimes between races, we may need to drop one sail and hoist another, the bowman sets the sails and facilitates the change. During the race, the bowman is responsible for making sure that the heasail does not get caught on the tacks, he is also responsible for setting up the spinnaker pole to hold out the headsail, when going downwind.
Photographer: During every race and training session, we take a few photos and videos, it's great to have them, but it is very important when it comes to trying to understand when a manoeuvre is not work for us. Having the video to play back is essential. During the races, this is a fantastic job, as you catch the atmosphere and excitement of the race itself. Stepping in as the photographer for a race, also gives you a well-earned physical break. The photographer must still move quickly and efficiently from one side of the yacht to the other during the race or training session.
Your awareness of race tactics will develop as we place the yachts into contrived positions to demonstrate how each yacht uses its position to best advantage. It is a great active evening and quite simply is fantastic fun.
This won't take up all the evenings of your summer either; it needs only a commitment of 1 or 2 evenings per week for 4 weeks, and one weekend.
The training provides a great physical work out, but can be undertaken by anyone of any build. We take great care to teach you to put your body in the correct position to minimise any strains, and to maximise your strength to carry out the manoeuvre. While fitness is not imperative, good physical mobility is essential.
We will be running this event again in July and August, so if you enjoy it. Be sure to book on again.
Logistics:
We meet for each evening at the entrance to Dun Laoghaire Marina at 1800. This is 100m from the Dart Station in Dun Laoghaire. We meet at 1800 and by 1815 we are making our way out the harbour and hoisting the sails. The training session will last around 3 hours in total, and sometimes includes a coffee table session for twenty minutes to recap on what was learned during the training session. The two yachts pace and race against one another, they practice different manoeuvres, so that their speed at any given time can be compared.
Regatta Logistics:
Day 1:
For the regatta, we meet at 0830 at the entrance to Dun Laoghaire Marina. You get into your respective teams. Two teams will start in the race vessels. Two teams will be on the committee boat, our 54 foot ocean going vessel Explorer ,watching the racing having a drink and awaiting transfer onto a race yacht for their respective races . One team will be required for refereeing at the windward and leeward marks in a rib (a rigid inflatable speed boat), and also provide off yacht photography of the two vessels and these exciting mark rounding moments. The 6th team will be transported to the national yacht club for a one hour rest during the day, a perfect opportunity to grab a coffee and watch the race from the clubhouse. Lunch is provided onboard the committee boat for each team. Each team will spend one hour of the day at the clubhouse, the rest of the time they will be onboard one of our vessels.
Racing will finish at around 1700 on the first day of the regatta. There will be a prizegiving ceremony and a barbeque at the national yacht club. The barbeque is included in the race entry fee. Spot prizes will be given for a variety of reasons, photo of the day, video of the day, best comeback, and naturally the wooden spoon (for the loosing team) will be handed out a midst some fireworks!
Day 2:
On the second day of the regatta, we start again at 0830 and get organised into respective groups. It's a bit more relaxed, we like to mix up the teams a little so you get the opportunity to race with people you may have never met. This is a fantastic opportunity to get to know people, as you are placed into a position where you need to communicate with each other effectively even before the racing begins. Again one team will have to sit it out at the yacht club for an hour during the day. We will have lunch onboard the vessels and will finish slightly earlier on the Sunday at around 1600 with a short prizegiving ceremony, so that you can
How to register a team:
Register a team name and create a login password.
Input the names of up to 7 people for the team including email addresses and mobile numbers. More than 7 names can be added, however the first 7 to book and pay online will make up the final team.
Select desired training days, based on current availability.
You will then be prompted to email, facebook, tweet and google+ the individuals you would like to invite on the team.
Each team member will receive an email, and can click on the link, to accept or decline the invitation, fill the booking form and pay online using paypal.
Once 7 people have booked and paid, the team is entered into the allocated training time slot chosen, and their training slot is blocked off. You can see what time slots are available, by looking at the table below.
The team place is not secured until the full amount has been paid via paypal, to guarantee availability, an individual may purchase on behalf of other people, not yet selected for the team to ensure the team place. However, once the team place is booked and paid, no refund can be provided by irish offshore sailing. Full refunds will be provided to any team members, where they fail to reach the allocated number of team members.